How to install C
Hey guys, today we will know how to install and setup c compiler in our device. There are so many compilers available in the market for C and C++. You must download any one compiler as per your comfort. Here, we are moving towards Dev C++ and Visual Studio Code (VSC). We will know here what is dev c++ and VSC and how to use them.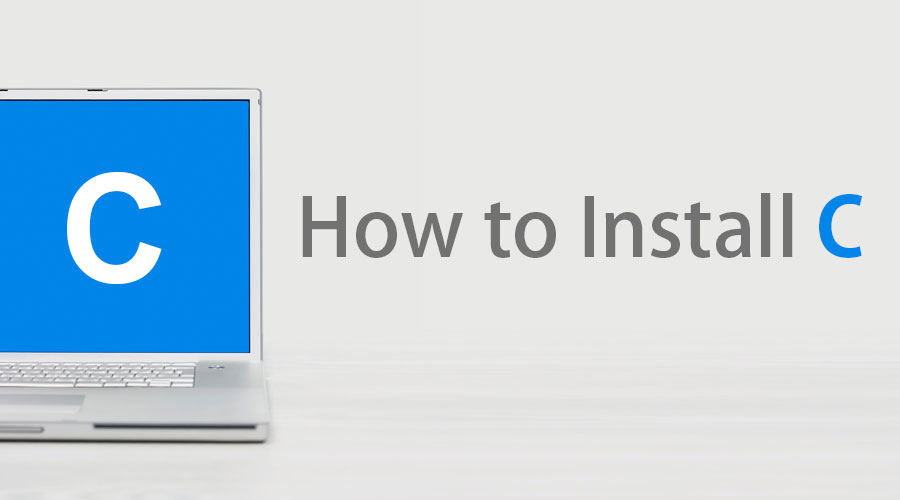 Dev C++
Dev C++ is an IDE which is free, fast, portable, and simple in use. This will work for both C & C++. To install Dev C++ software, you must perform the following steps.
Now click on the download button.This is a 50 MB file approx.
After clicking the download button , the file will starts downloading on your local server.after downloading the file, you will see some popups.
Start the installation by clicking Next buttons until the last popup arrives..
Choose the destination folder of your pc and install it.
Once you complete the installation, go to My Computer > Properties > Advanced System Settings > Advanced Tab.Now click on "Environment variables" button and then click at "new".
Change the system variable name as: PATH.
Change the variable value as: C:Dev-Cppbin;.
Click OK and start Dev C++ to write the programs.
Visual Studio Code
Visual Studio Code is a lightweight, cross-platform development environment that runs on Windows, Mac & Linux systems. Supports Microsoft C/C++ IntelliSense, code formatting, debugging, auto-completion for Visual Studio code extensions. There is no support of Microsoft C++ for mac, but does support .NET languages ​​and cross-platform development.let's move step by step
Step 1 –

Make sure if your computer is ready to use for Visual Studio.

It is important to check the system requirements before installing the Visual Studio. These requirements help you to know whether your computer supports Visual Studio or not. Apply the latest Windows update. These updates ensure that your computer has both the latest security updates and the system components required for Visual Studio.Reboot. A reboot ensures that any pending installs or updates do not interfere with the Visual Studio install.Empty space. For example, remove unnecessary files and applications from your% SystemDrive% by running the Disk Cleanup app.
Step 2 –

Download Visual Studio Next,
download the Visual Studio bootstrap file. To do this, choose the following button, choose the version of Visual Studio you want, choose Save, and then choose Open Folder.
Step 3 –

Install the Visual Studio in your pc.
Run the bootstrap file to install the Visual Studio Installer. This new lightweight installer includes everything needed to install and customize Visual Studio. From your download folder, double-click the bootstrapper that matches or is similar to one of the following files:

Vs_community.exe for the Visual Studio
CommunityVs_professional.exe for Visual Studio
ProfessionalVs_enterprise.exe for Visual Studio Enterprise

If you receive a user account control notification, select Yes.We will ask you to accept the Microsoft license terms and Microsoft privacy statement. Choose continue.
Step 4 –

Choose Workload
After the installer is installed, you can use it to customize your installation by selecting the workload, or feature set, that you want.Find the workload you want in the Working Visual Studio screen. After selecting the workload (s) and choosing the desired component, choose Install.Next, status screens appear that indicate the progress of your Visual Studio installation.
Step 5 –

Select individual components (optional)
If you do not want to use the Workload feature to customize your Visual Studio installation, or you want to add more components from workload installations, you can do so by installing or adding individual components from the Individual Components tab. Choose what you want to do, and then keep on continuing.
Step 6 –

Change the installation location (optional)
You can choose the installation path of Visual Studio on your system drive. You can choose to move the download cache, shared components, SDKs and tools to different drives and put Visual Studio on the drive that runs it the fastest.

Important: When you install Visual Studio for the first time, you can select a different drive. If you have already installed it and want to change the drive, you will have to uninstall Visual Studio and then reinstall it.
Step 7 –

Start Developing
After the installation of Visual Studio is complete, choose the Launch button to develop with Visual Studio.On the Start window, click on Create a new project.In the search box, enter the type of app you want to create to see the list of available templates. The list of templates depends on the workload (s) you selected during installation. To view different templates, select different workloads.You can also filter your search for a specific programming language using the Language drop-down list. You can also filter using the platform list and project type list.Visual Studio opens your new project, and you're ready to code!. When Visual Studio is running, you are ready to continue to the next step.